The best we have to offer. This package will transform your vehicle to a showroom finish. We literally touch every part of the vehicle to ensure it is looking better then when it came out of the factory. The pinnacle of detailing.
*No other cars are booked during the course of this detail*
We are able to effectively revive your paint with our years of experience, along with a plethora of detailing products at our disposal. From a showroom shine to a spectacular interior finish, this is why Waxed detailing services is chosen time after time.
Time required: 5 Days (Free visual inspection needed – We come to you)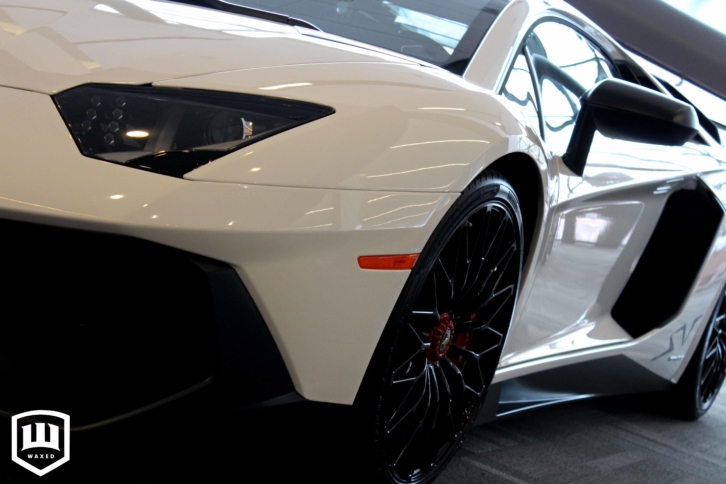 Starting at 2499$
EXTERIOR:
Hand wash with two bucket system (w/Grit guards to prevent swirls in paint)
Premium soap used
Exterior Plastics dressed to bring back dull & faded plastics/vinyl/doors
Door jambs detailed
Various brushes used in all intricate spaces
Dried using microfiber towels 600 g/m² (Prevents scratching)
Windows cleaned
Tar & Bug removal
Inside Gas Cap Detailed
Wheels, Wheel wells and tires cleaned
Gloss application to wheel wells (Fender undersides)
Vinyl protectant application (Brings a gloss to plastics & vinyl – Shine)
Exhaust Tips detailed & Polished
Headlights polished
Claybar vehicle (Removes surface contaminants)
Full Iron and Brake dust removal using our PH neutral product (Click here to see pictures)
Buffing of entire vehicle with our special Compound/Polish combo that effectively removes: Dullness, swirl marks, scratches & spider webs to bring out an amazing shine
2-3 layers of Cquartz Finest Reserve applied to entire car & headlights+rear (2 years protection)
Discuss application of PPF (Paint Protection Film Ottawa)
INTERIOR:
Professional grade steam cleaner used for interior & carpets (Effectively kills 99.9% of bacteria)
We also blast steam throughout your all vents to kill any mold or bacteria
Interior & floor mats Vacuum
Use of a Tornador gun
Capet extractor w/ 220psi lift
Trunk Vacuum
Trash removal
Disinfect & detail dash, door panels, shifter, cup holders and surrouding areas
Leather cleaned & conditioned (Safely remove grime, dirt and oils. 3-Step)
Leather sealed with Cquartz Leather
Windows cleaned
Light headliner shampoo to remove stains
Vinyl protectant application (Brings plastics & vinyl to new condition)
Air Freshner application to entire vehicle
Surface, crack and crevice detail
Carpet & Floor mats shampoo
Remove salt stains (Winter)
Cloth Seats shampoo (If applicable)
Full Interior detail
WHEELS:
Wheel detailed with various brushes and inside of whole rim
Lug nuts detailed with proper tool
Tires detailed with PH neutral degreaser
PH neutral product to effectively remove all iron/brake dust
Wheel wells brushed and gloss sealant applied to rubber guards
Tire dressing that last weeks
Gel degreaser that clings and removes nasty dirt &iron particles (PH neutral and safe on lambo wheels!)
Chrome/Stainless wheels receive polish treatment
Sealed with C.Quartz Finest Reserve ( 2-3 layers)
WINDOWS:
Polished to high gloss (Remove scratches or etches)
Coated with our 2 year nano glass sealant (Not to be confused with Rain-X)
All windows receive treatment
ENGINE AND ENGINE BAY:
Engine degreaser that is PH neutral and safe
Fully detailed with several brushes
Steam Cleaned
Plastics and Matt parts receive semi-permanent gloss application
Visit our Extras to see what you can add to this package.
We can customize any package to your needs. Just contact us
*Some extra fees could be applied if the condition of the vehicle is extremely dirty